Dr. Brad McDavid – Director of Athletic Bands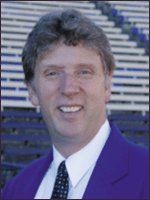 Dr. J. Brad McDavid will begin his 26th year as Director of Athletic Bands at the University of Washington in fall 2019. His primary duties as director of the 240-member Husky Marching Band include principal field conductor, show coordinator, and program administrator.
Having previously taught at the elementary, middle school, and high school levels in central Ohio and Tempe, Arizona, Brad received his Bachelor's Degree and Ph.D in Music Education from The Ohio State University and Master's Degree from Arizona State University.
Brad is in demand as a clinician, adjudicator, and guest conductor, and has led the Husky Marching Band on performance tours of Australia, China, Scandinavia, Japan, France, Ireland, and Italy. In 2008, he was selected to serve as the head artistic director for the 1700 member international Beijing Olympic Orchestra. In May of 2015, Brad was also selected by the Kansai Bandmaster's Association to conduct a 7300 member mass marching band in Osaka, Japan.
Dr. McDavid is currently on the selection committees for the John Philip Sousa Foundation's Sudler Shield, and the Sudler Trophy awards recognizing outstanding high school and collegiate marching bands around the world. He is also the founder and director of the Washington All-State High School Marching Band. Dr. McDavid is the co-author of the two-volume DVD instructional series, "The Marching Band Director's Video Toolbox" (published by GIA Publications, 2013).
Brad, his wife Janie (who is also a longtime music educator), and son Skylar, reside in Bothell.
Josh Chan – Program Coordinator
Josh Chan is entering his 12th year with the Husky Athletic Bands and his 7th year as the Program Coordinator in fall 2019. He is a 2012 graduate of the University of Washington and holds a Bachelor's Degree in Science, Technology and Society. While at the UW, he was a 5-year member of the Husky Marching Band. During his time in the band, Josh played in the Husky Drumline for four years, served as drumline section leader for a year and finished out his undergraduate tenure in the band as a staff assistant on the student staff team. After graduating from the UW, Josh had the opportunity to come back as the Program Coordinator in the summer of 2013. He is a brother of Kappa Kappa Psi, which is the national honorary band service fraternity.
As the Program Coordinator of Husky Athletic Bands and Spirit Squads, he runs the daily operations of the Band, Cheer and both university mascots, Harry the Husky and Dubs. His duties includes overseeing the Undergraduate Staff, Media Staff, taking care of all travel arrangements/logistics, booking appearances, managing the bands digital media accounts, recruiting, and many other duties that keep the Marching Band, Cheer, and Mascot Program running smoothly.
Josh has worked as a Theatre Manager/Technician for Seattle Public Schools (2006-2017), a Theatre Technician for the Renton IKEA Performing Arts Center (2013-2019), and the Percussion Instructor at Chief Sealth International High School (2009-2013). He has also been an instructor, arranger and drill-writer at Denny International Middle School, Chief Sealth International, Interlake, Roosevelt, and West Seattle high schools. Josh has also been part of the Seattle All-City Marching Band team for the past 15 years, 4 years as a student and then the last 11 years on staff.
Dan Fischer – Graduate Assistant Director
Dan Fischer is in his second year in the Doctor of Musical Arts/Instrumental Conducting program at the University of Washington where he serves as the Graduate Assistant Director for the Husky Athletic Bands. He is also the conductor for Campus Band, and assistant conductor of the Wind Ensemble.
Dan Fischer earned his Bachelor of Arts in Music Education from Ottawa University (AZ) where he studied with Dr. Robert Hunter, Denny Monce and Josh Whitehouse. After earning this degree, he served as a band and orchestra director in the Scottsdale Unified School District (AZ) for three years. From there, he went on to earn his Master's of Music Education degree at Auburn University where he studied with Dr. Richard Good and Dr. Corey Spurlin. During his matriculation at Auburn University, he served as a Graduate Teaching Assistant for the band program – assisting and directing all three university concert ensembles, assisting with the 380-member marching band, and co-teaching undergraduate conducting courses. Prior to his doctoral studies, Dan served as the Director of Instrumental Music at John F. Kennedy Catholic High School (Burien, WA) for three years.
In addition to teaching, Dan Fischer has worked as a brass and visual clinician, guest conductor, and adjudicator in Arizona, Alabama, and Washington. He also had the honor of being a performer with The Arizona Academy Drum and Bugle Corps from 2005-2008. He currently is a member of the National Association for Music Education, the Washington Music Educators Association, the College Band Directors National Association, the National Band Association, the College of Music Society, and Pi Kappa Lambda.
Corey Jahlas – Graduate Assistant Director
Bio and Photo Coming Soon!
Craig Winter – Drumline Instructor
Craig Winter is a passionate music educator and percussion advocate who firmly believes that the leadership and life skills learned through arts education are unique and invaluable. Craig works to provide impactful experiences through music for all his students.
Growing up mostly in the Seattle area, Craig studied under noted percussion educators Donn Bennett, Scott Ketron, and David Reeves prior to heading to Arizona State University where he earned his degree in Instrumental Music Education. As an ASU student, Craig studied with Dr. J.B. Smith, Dr. Mark Sunkett, Dom Moio, and Bill Wanser. Also during that time, Craig developed a love for marching percussion and went on to compete as a finalist at the highest levels of Drum Corps and WGI. Thanks to the strong and diverse southwest/west coast percussion community, Craig was extremely fortunate to be directly influenced by educators including Rich Hinshaw, Tom Float, Pete Sapadin, Sean Vega, Antonio Hernandez, Ralph Hardimon, and Jeff Queen in the early years of his marching percussion experience.
Over the last 20 years Craig has been a professional performer, band director, adjudicator, and clinician. He was an Assistant Director of the Seahawks Blue Thunder Drumline and has taught in WGI and DCI with The Academy, Momentum Percussion Theater, Paragon Competitive Arts, Seattle Cascades, and the Columbians. He is currently  a freelance percussionist, private teacher, Founder/Director of Emerald City Boom, instructor of the UW Husky Drumline, and an instructor/consultant for various high schools.
Patrick O'Donnell – Low Brass Instructor
Bio and Photo Coming Soon!
Ben Gary – Equipment Repair Technician
Ben came to the Seattle area in 1969 and worked as a band teacher in the Shoreline School District. Upon retirement in 1994, he successfully completed the instrument repair program at Renton Technical College. He spent several years repairing band instruments before being offered the opportunity to set up a repair shop and maintain the Husky Marching Band instruments. Ben attends every home football game and often travels with the band to ensure all instruments are in great working condition for the Husky Band members.
Ben and his wife Jackie live in Bothell.
Don Sabo – Field Assistant
Don Sabo joined the Husky Marching Band September 1965 and remained until June 1969. He rejoined to the Band in September 1976 and ended his Varsity Band career in June 1979. He was asked to accompany the band as a field assistant for the 1981 Rose Bowl. Don was hired as a staff assistant in August 1981 and continues to enjoy the position and give back HMB.
In addition to his work with HMB he has operated a residential design business for 38 years and a residential construction partnership for 29 years.
Don has been married to Adrienne (Frank), a 30+ year music teacher, and 1982 HMB Undergrad and Trombonist, for 29 years. Their daughter Paige graduated from the University of Arizona with a BA in Dance Performance in 2009; their son Shanley is now a Trombonist in the HMB Alumni Band and has earned a degree in Culinary Arts.
Don Curtis – Field Assistant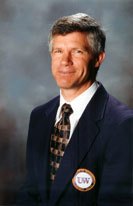 Don begins his 26th year as a member of the band staff. He is a 1973 graduate of the UW with a Bachelor of Arts degree in Business Administration/Accounting and was a member of the Husky Band's Drumline from 1969 to 1972. Don appeared in the annual varsity/alumni show for 34 consecutive years, and has marched in a Husky Band uniform over a span of 5 decades, for 3 of the 4 UW band directors. He served 4 years on the Board of Directors of the Husky Marching Band Alumni Association. He is the owner of Don A. Curtis & Associates PLLC, a certified public accounting firm in Kent where he resides with his wife Kathy.
Edd George – Field Assistant
Edd George is excited to be wearing Purple and Gold again as a Field Assistant for the Husky Marching Band!  As a former member of the HMB trumpet and sousaphone sections, he is thankful for the opportunity to give back to the current students, and learn from his colleagues.
Edd currently teaches at Bellevue High School, where he directs the Marching Band, Jazz Band, Percussion Ensemble, and 3 Wind Bands. During his tenure at BHS the band has begun marching at halftime, performed in more parades, and fundraised for new marching band uniforms.  The marching band is well respected and appreciated as an integral part of BHS football games. Before taking over the reins at BHS, he taught at Newport High School and Tyee Middle School, both in Bellevue. Prior to 2006, Edd taught in Bellingham at Squalicum High School, Kulshan Middle School,  and Whatcom Community College.
Mr. George graduated from the University of Washington with a Bachelor of Music in Music Education in 1999 and a Master of Conducting from the American Band College at Southern Oregon University in 2005. In November of 2008 he became a National Board Certified Teacher. In addition to teaching band, Mr. George is one of the directors of Soundwave, the band for the Seattle's Major League Soccer team, the Sounders FC. He does many of the arrangements for the band, as well as running rehearsals, and directing at home matches.
Outside of his musical endeavors, Mr. George spends time with his wife Allison (who was the first female sousaphone player in Husky Marching Band), daughter McKenna, son Aidric, and four cats.
Marcus Pimpleton – Field Assistant
Marcus J. Pimpleton marched in the Husky Band from 1996 to 2001, serving three years in the trombone section and three years as Husky Drum Major. From there he immediately began serving as a band director in the Seattle Public School District, where he is entering his 15th year as director and program coordinator for the award winning Seattle Schools All-City Marching Band. A strong believer that education should be a lifelong endeavor, Pimpleton's earned degrees include an Associates of Theology, Bachelor of Arts, and Bachelor of Music degrees in Music Education, a Masters in Educational Leadership and Policy Studies, and a Doctorate in Religious Education.
In his teaching career, Dr. Pimpleton has made ensuring equity in student access to high level music making and performance opportunities the central theme of his work, coordinating over 300 student performances for elementary, middle, and high school groups including performance tours to Hawaii, Washington D.C., New York, Reno, and New Orleans. He has partnered with a wealth of community organizations including the Seattle Symphony, the Seattle Repertory Jazz Orchestra, Seattle Music Partners, the Seattle Youth Symphony Orchestra, and Seattle University. His labor has been recognized by KCTS which awarded him the prestigious Washington State Golden Apple Award, and by the Alliance for Education which awarded him the Phillip B. Swain Excellence in Teaching Award. Outside of his band work, Pimpleton serves as the principle of Quincy High School.
Sarah Randall – Program Assistant
Sarah is from Seattle, Washington, and is in her sixth year with the Husky Marching Band, after four years in the Alto Saxophone Section. Sarah graduated from the University of Washington in March 2018 with a BA in English Language and Literature with a Music minor. After serving her senior year as Alto Saxophone Section Leader, Sarah wanted to continue to support the Husky Band in another role. She is looking forward to supporting the program and developing the social media platforms further for the band, and cheering on the Dawgs for another year!
Randy Rowland – Announcer
Randy is returning to the Husky Marching Band for his 2nd season this fall. Randy holds undergraduate degrees from Pacific Lutheran University and People's Bible Institute. He also holds Masters and Doctoral degrees from Fuller Theological Seminary. Randy has a deep interest in music, movies and sports and how all of these aspects of popular culture can be explored to communicate the Gospel of Jesus Christ. Randy is married to Nancy Rowland and has two children, Rachel & Andy. He is an avid scuba diver, reader, movie-goer and boater. He is also the stadium voice for the NFL Seattle Seahawks. Randy is author of two books: Get A Life and The Sins We Love and co-author with Lyle Schaller of Center City Churches.
Eric Quach – Media Coordinator
Eric is a graduate of the University of Washington, Bothell campus, with a degree in Business. This will be his 8th year in the band, and third year as the media assistant. He served as section leader of the clarinet section for two years. Eric is a brother of the National Honorary Band Service Fraternity, Kappa Pappa Psi, and was the Service Committee Chair, a position he held for 2 years. During the summer, Eric serves as the Staff Coordinator for the Seattle All-City Marching Band. Eric loves cars and is an avid photographer in his free time. Go Dawgs!
Kathy Curtis – Pressbox Videographer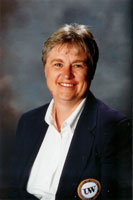 Kathy begins her 26th year as a member of the band staff. She is a 1974 UW graduate with a BA degree in Business Administration/Accounting, and was a member of the Husky Band's saxophone section.  While attending the UW, she was also on the band's Student Staff team,  played on the UW basketball team and is a current member of the Big W Club.  In 1977 Kathy and husband Don were instrumental in creating and organizing the Alumni Band which entertains tailgaters at all home football games.  Kathy served as Treasurer of the Husky Marching Band Alumni Association for six years.  Don and Kathy have been married 44 years and have two sons who also attended the UW, and have five grandchildren.
Garry Nakayama – Pressbox Photographer
Garry has been with the HMB for over 30 years, serving as a student, an assistant band director, and now a staff photographer. He first served as Assistant Director under former director Bill Bissell and has also been a high school conductor in the greater Seattle area for 30 years. He was an inaugural member of the Washington Music Educators Association Hall of Fame, inducted in 1998. Garry resides in Kent, Washington.
Luke Waters – Field Photographer/Videographer
This is Luke's 9th year with the Husky Marching Band. Luke was a member of the Husky Drumline during his tenure in the band.
Justin Bales – Field Photographer/Videographer
This is Justin's 9th year with the Husky Marching Band.
Justin was a member of the Husky Drumline during his tenure in the band.
David Marksbury – Field Photographer/Videographer
David is from Seattle, Washington, and is in his third year with the Husky Marching Band. David is also a Video Operations Specialist in the Department of Intercollegiate Athletics at the University of Washington. After spending four years in Pullman, Washington working with the WSU Cougar Marching Band, David wanted to continue his work in the marching arts while once again living back in Seattle. He continues to work with both marching bands each football season as his schedule allows.
Aja Utsugi – Field Photographer/Videographer
This is Aja's 8th year with the Husky Marching Band.
Aja was a member of the piccolo section during her time in the band.
John Aguilar – Drum Major Coach
Bio and Photo Coming Soon!